Duffy Fainer has personally performed at over 1000 weddings and many ceremonies. On your wedding day, this caliber of experience will pay off for you. He also performs as a Special Event DJ at events of all kinds and themes.

Duffy will coordinate the reception for you. From the moment you arrive, he'll take care of the schedule and keep the event flowing. Click here to view a 5 minute video demo of Duffy performing at a 2010 wedding.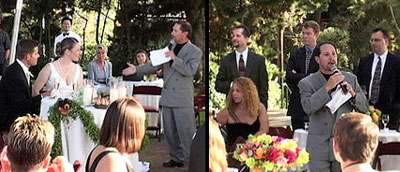 As a musical expert and collector, Duffy is able to provide a wide assortment of music for all tastes and age groups. Click here to view over 4000 song selections you can choose from.


The Magic of Duffy's talent lies in his ability to fully involve the audience.


He makes the Bride and Groom the center of the event. Duffy is a great Emcee. He keeps the party moving, and takes care of all the introductions and formalities. He brings out the meaning of the wedding event, keeps it light and fun,and in his tasteful and polished way, creates interest, participation and unity amongst the guests.


Sept 2010 wedding client,Tania Ginsberg said:
Here are 10 reasons to choose Duffy as your DJ for your wedding:1) Duffy was very good at understanding our guests and their musical needs.
2) Duffy was very flexible in the overall tempo of our wedding.
3) Duffy was extremely open to taking the time to get to know us (bride and groom) and our individual needs.
4) Duffy has an extremely large music collection.
5) Duffy was able to incorporate our very specific music perfectly with his own.
6) Duffy has an amazing voice!
7) Duffy dressed well and appropriately for our specific type of wedding.
8) Duffy is a very positive human being (a huge plus when you have the stress of a wedding to plan).
9) Duffy was very professional before, during and after our wedding (and perfectly on time).
10) Duffy was an extreme pleasure to work with.
December 2007 wedding client, Lynn Hijar said:
Thank you Duffy!!! I just wanted to tell you that EVERYONE I spoke to after the wedding said that you were WONDERFUL and that you made the party happen. Thank you SOOO much for everything... I'll keep sending referrals, ok? Thanks!!! Lynn.

February 23, 2002 wedding client, Gary and Tanya Albeck said:
Tanya and I had a wonderful time. We agreed that your emcee/DJ skills were instrumental in making it a memorable wedding. Many people I spoke with mentioned they were very pleased by the professional way you handled the reception and the way you helped all to have a great time. Tanya and I want to express our sincere appreciation for making our special day such a wonderful experience.
Thanks to you, we will have great memories to share for a lifetime.
YOU DA MAN!.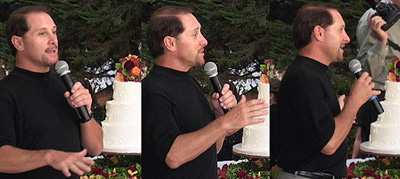 "Voice by Duffy" is endorsed and listed as one of the best San Diego Special Event Emcee DJ's in "Here Comes the Guide".

This guide questions other Event Professionals about who they would hire if they were giving a party. It said:

"Duffy did not pay to be included and our selection was based strictly on the quality of his work. We feel confident about endorsing Duffy Fainer based on the most 'votes' from his peers."
View letters from happy wedding clients.

2 minute video demo [4megs]:
Duffy performing at a 2005 wedding in (Windows Media)
---


Email: duffy@voicebyduffy.com

P: 858.673-9848